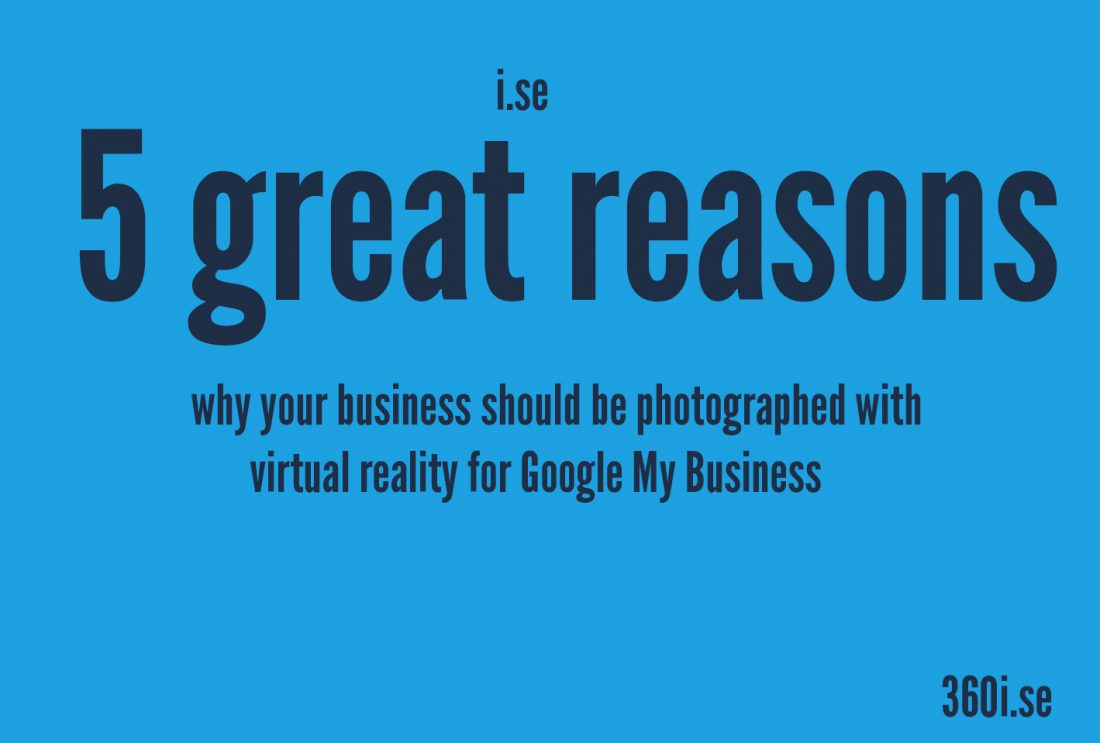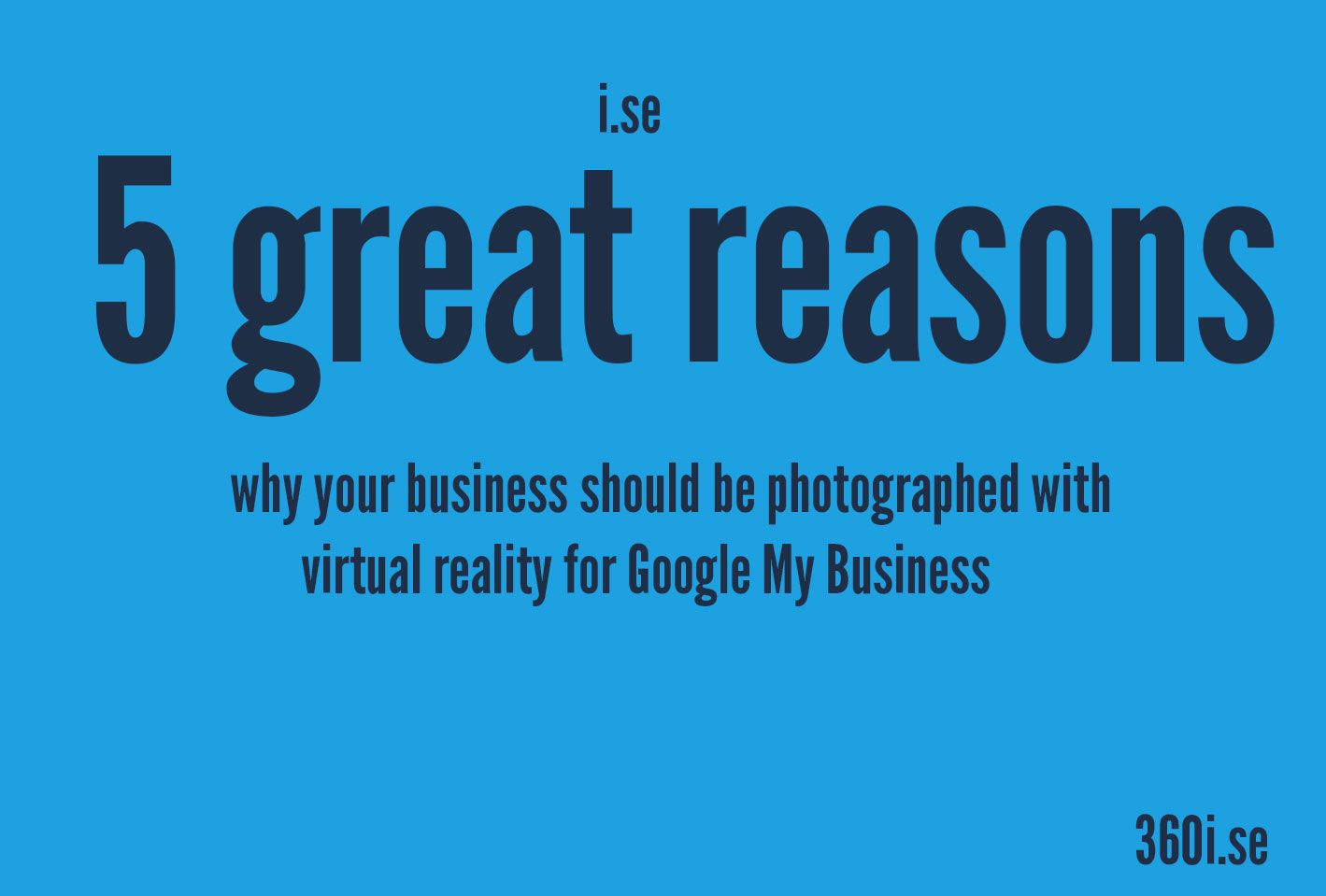 5 great reasons Google My Business
5 great reasons why your business should be photographed with virtual reality for Google My Business
Expanding and attracting new customers today can feel much harder than it was a few decades ago. With so many new players on the market, competition has become tougher and companies are constantly looking for new ways to reach their market. Much within our culture has also changed and today we use new ways to attract customers. Both large and small companies can feel that it is hard to reach out to potential customers and newly established businesses may make it even more difficult.
HOME             ABOUT          360PORTFOLIO      NEWS       CONTACT-Email Us 
At the same time, today there are many new opportunities for reaching out to their market. With the help of social media and technology development, companies find new ways to reach their customers in an innovative and successful manner. One of these ways is to offer their customers a digital tour of their business through virtual reality. Imagine that you can already see what hotel you want to book for the holiday or a restaurant you want to have dinner tonight with your partner using virtual reality. Together with a professional photographer who has expertise in 360-degree photography, you can give your customers an experience via the computer or mobile phone. Using Google My Business, a platform for listing your business and all information about it, you can use the Google Business Photos service and get in touch with an experienced photographer who can help your business to become more successful.
 Here we list 5 good reasons why just your business should be photographed with virtual reality for Google My Business.
1- A digital tour
In a digital world, the opportunity to offer a digital tour of your company is a natural development. Customers expect to find all the information about your business from the comfort of sitting at home, on the bus, or at the gym with their smartphone, so why should they not be able to find out what your business looks like? Whether you have a hotel, a restaurant, or a regular office environment, a digital tour can be just what persuades a potential customer to contact you.
2 -Show your creative and innovative side
Many companies begin to discover the benefits of shooting and shooting at 360 degrees, and virtual reality allows you to showcase the creative and innovative side of your business like thousands of other companies do.
3- Get better results on Google
Using Google's search engine and "Google My Business", you can increase visitor numbers and improve the performance of your website, which in turn gives you a better chance of converting customers. With virtual reality as an additional enticing factor, visitors to your website can increase significantly.
4- Give an experience
You not only offer your visitors a tour of your company but also an experience. Potential customers can, with the help of a virtual tour, get a feel of how a visit to your business would look like. They can find information about your company and also prepare for a visit. Many who plan a dinner or a party at a restaurant need to first see how big the restaurant is or how it is built. If you want to start training in a new gym, you want to see what types of machines there are and how big the gym is. All of this, one can offer their potential customers with the help of virtual reality.
5- Virtual reality is growing more and more
Hundreds of companies have begun investing millions in everything about virtual reality and 360-degree photography marking an important step for the future. Development is moving forward and many companies have quickly captured the opportunities virtual reality can offer. Using virtual reality is a first step toward what the technology will develop into within a few years, a completely different interactive reality. You and your business do not want to miss it.
See how 360 tours really help  CLICK HERE TO SEE