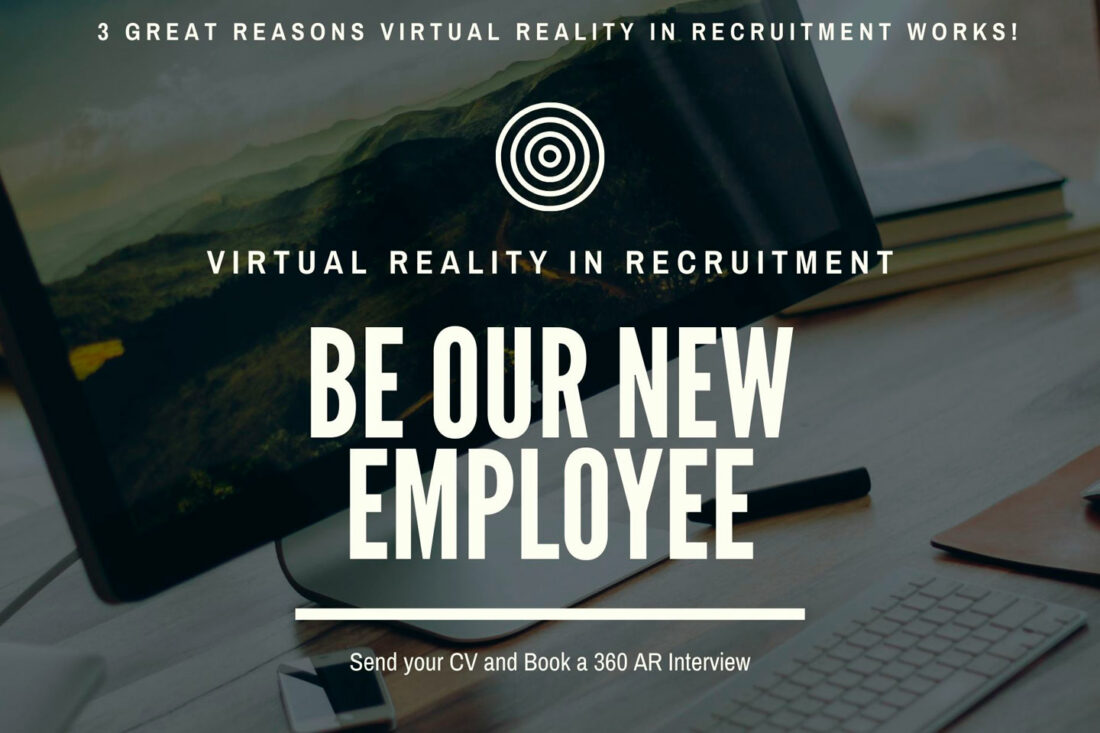 Virtual Reality in Recruitment 3 Great Reasons
3 Great Reasons Virtual Reality in Recruitment Works!
Technology has changed, and so is the way recruitment works. 360 Photography and virtual tours has added spice to recruitment that is proven to be highly effective in transforming the candidate's experience.
With the introduction of virtual reality / augmented reality in recruitment, many things have changed, but do you know how it is benefiting recruitment?
VR / AR Lets You Hire Remotely: No matter where you live or work, it's now possible to mark your presence virtually, and interview any candidate remotely. Virtual tours helps you build a face-to-face environment with the candidate and interview them to the fullest. A Live Guided Tour of ''The Office'' are used to provide an office experience via Augmented Reality. For the best and precise experience of your office/premises, businesses must consider a professional in 360 Photography to build a virtual office and virtual tour. Further, VR / AR helps you interact with multiple candidates in a single go without traveling to each candidate physically. It is also time-saving and lets you find the right candidate in a short period.
Offer On-Job Experience: Whether you are interviewing any candidate or delivering the welcome demo to any new joiner, a fully-simulated office gives you the best experience of being in the office.
Remember, Virtual Reality is all about offering a real-life experience to the candidates even when they aren't present there. That's the reason virtual tour demand has increased gradually in the last few years. Further, with the amalgamation of VR and AI, the candidate experience has grown to an all-new level. Artificial Intelligence (AI) helps you test any candidate's basic qualities in VR / AR situation and saves your time from misleading resumes.
This way, you can pay keen attention to the quality candidate and find his/her real potential to fit for the vacant position.
HOME             ABOUT          360PORTFOLIO                CONTACT-Email Us
More Than Just One Way Interview: Interview is not all about asking and responding to the questions. It's more about your mindset, your logic, and how you can handle any professional situation in the hour of need.
Hence, the experience allows recruiters to find the candidate virtually present and test his/her complete personality to find whether he/she fits the job or not. Numerous other aspects (other than technical knowledge) are required to find the right candidate. Virtual Reality helps you to check those qualities as it brings the candidate right in front of you.
With Live Guided Tours, recruiters can examine can see how the applicant interacts with the augmented reality environment, which is a crucial part of the interview. It lets you know how the candidate responds to the office environment.
With VR in hand and wearing a VR headset takes you to an all-new world of workplace that was not possible years back. Numerous businesses have started adding virtual Reality to their day-to-day operations.
So, if you are a business or recruitment agency, VR / AR is a boon for you. Now you have also found great reasons for integrating 360 Photography and virtual tours in recruitment and change the way candidates were hired.
What more do you think about blending virtual Reality with recruitment? Do let us know Contact